Aesthetic Flashing Light
The flashing lights inside the body ooze a sense of unique art of illumination, offering a brand new way to display the battery level by shining lights.
Light. Versatile. Powerful.
An integration of an extendable selfie stick, a rotatable tripod and a double-side fill light! SMOOTH-X2 meets your every imagination on a versatile Vlogging setup. Robust motor makes strong compatibility. No balancing is needed.
Magnetic Fill Light
Lighter but stronger phone clamp with a foldable design, which comes with magnetic contact points for attaching fill lights. Four brightness levels are available with various color filters at your choice to provide different lighting in different situations, no matter the gimbal is powered on or in standby mode. You can always use it for your diverse style of shooting.
*The magnetic fill light needs to be purchased separately.
265mm Extendable Rod
Outstanding 265mm extendable rod which can be adjusted to use in five levels of length. Stretch it out for brand new visions and creative angles.
Rotate, Pull, Shoot
Go left, go right or take a 360° rotation, the gimbal presents you a much easier way to set up or pack up.
.SmartFollow Centers The Object
Use SmartFollow to secure the spotlight on the filming people, animals and objects at any time.
Gesture Control
Shooting has never been easier when you're by yourself or with friends. Show one gesture and let the smartphone do the job.
Timelapse
Condense more frames in seconds. Every scene is worthy of excellent filming.

Slow Motion
Exclusive APP ZY Cami realizes high-quality slow motion that shows unseen spectacles.
Pano/MagicClone Pano
Enjoy the MagicClone Pano by striking several poses and arranging them in one picture to show how stunning you are.
SMART It Out
Searching for better settings, music and filters? Use Smart Mode to generate your own masterpieces with all your video clips. Get creative for the shooting with just a few taps using the in-app amazing templates.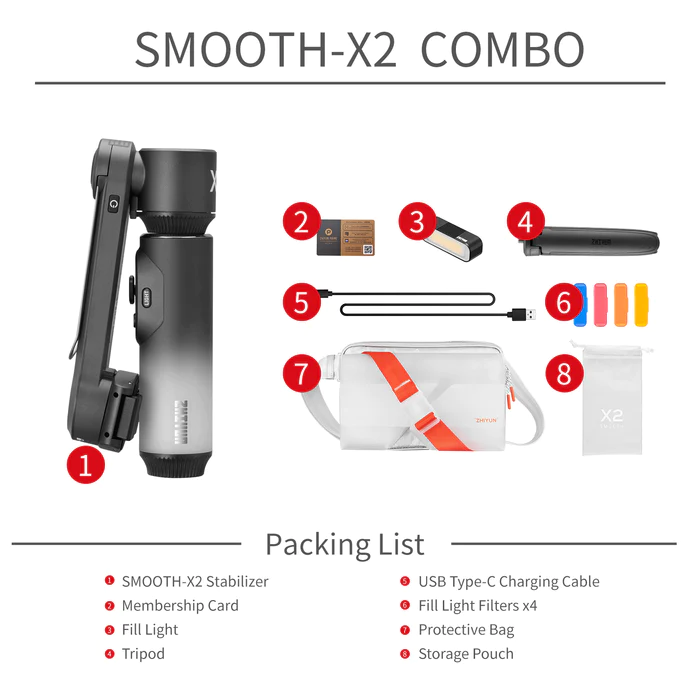 產品規格
尺寸及重量
高度: 71 mm
闊度: 56 mm
長度: 160 mm
重量: 300g(含電池)
電池
容量


13000 mAh, 不可拆卸

運作電壓




最高:4.2V




標準:3.7V




最低:3.4V

運作電流
最高:5000mA
最低:240mA
運作溫度
最高:45℃
標準:25℃
最低:-10℃
電池使用時間
最高:3.5小時
標準:1.5小時
(以上數據在以下指定條件下收集:環境溫度為25℃,將雲台搭載iPhone X並調整平衡。開啟補光燈時,使用時間為1.5小時。待機時,使用時間為3.5小時。)
充電時間
標準:2小時
(此測試在25℃指定溫度下以5V/2A額定電源適配器進行。實際充電時間可能隨環境因素而異。此外,環境溫度越低,充電時間亦會越長。)
穩定器
左右傾斜 (Roll) 機械範圍
標準:268°
左右旋轉 (Pan) 機械範圍
標準:290°
產地
產品型號
包裝清單
SMOOTH X2 (內置電池)
補光燈
補光燈瀘光片 x 4
三腳架
USB Type C 數據線
束口收納袋
收納包
VIP卡
快速入門指南
保養條款
香港行貨; 2年保養 ,

7天購物保障有壞包換 (不包括人為損壞及必須保留完整包裝)
保養中心
三橋拓展有限公司
聯絡地址:新界葵涌葵豐街28-36號業豐工業大廈12樓B4室
聯絡電話:2567 3110
*以上資料及圖片僅供參考,實際產品功能和規格,以廠方公佈為準*